Allow Me to Introduce the New JaeminYi.com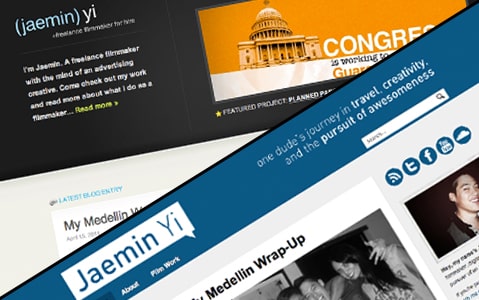 Finally. Goddamn. I've been waiting for this moment for a long time.
Ladies and gentlemen, I'd like to you meet the new and improved JaeminYi.com. Hell yeah.
Sorry if I sound a little excited. I've been constantly thinking about this redesign for the past year. Been cooped up working non-stop on it for the past month. And now…it's finally here! I'm gonna need a moment. Ok, I'm good.
So what was wrong with the old site? The main thing was that it was mixing up my business with my personal. I know some people define their entire existence over what they do for a living, but that ain't me.
I want to talk about stuff other than filmmaking. As a person, I have a million different ideas, interests, and passions. As a website, I want to be able to share all those things – not just the ones related to my business.
And I want to be able to share them in my own voice. The way I actually talk. Not in a voice that's worried about being presentable to future clients. I felt so stifled and inauthentic with my old site. How messed up is it that I felt I couldn't be Jaemin Yi on a site called JaeminYi.com? Well, not anymore.
My film business, also, has outgrown this old site. Gone are the days where I ran around as a freelancer making videos all by my lonesome. Now I work with a team as the head of my own production company, Imaginary Lava Studios.
So here we are. My business and personal digital lives are finally separate and it feels great. I'm finally free to do whatever I want with this site.
I might tell the story about my two freshmen year roommates who started dating each other (and then broke up 3 weeks later…awkward). Or post up another shitty song I just made. Or write about why I haven't missed a day of journaling in the past 2 years and why you should do the same.
Whatever it is I do, I pinky swear that I'll do it as authentically and genuinely "me" as possible. My real thoughts, interests, and passions finally have a home online. And it feels fucking awesome to say that.