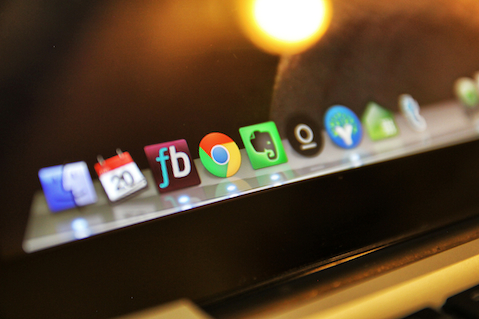 Apps, apps, apps. I love apps. The thought of a new app that'll make my life more awesome practically gets me salivating.
And why shouldn't it? These days, so much of our lives exists in the digital realm, we're practically living in a virtual reality! So discovering a new life-changing app is like gaining a new superpower. You can literally extend your ho-hum abilities in UNLIMITED ways…without having to get bit by a radioactive spider.
So these are the top Mac apps that I can't live without. The crème de la crème. The apps I'd take with me to a deserted island (which conveniently has a power outlet and wifi, of course).
The apps that without, I'd feel like a mere human weakling…
When I sit down to get shit done, this is the FIRST thing I load up. Always. Once I hit that timer and the clock starts ticking, it's time to begin!
This app is basically a Pomodoro timer that sits on your desktop and counts down in 30 min. chunks. It doesn't sound like much, but there's a whole world of productivity junkies who swear by this technique, called the Pomodoro Method. I even wrote a post all about it.
I don't really use the Pomodoro Method anymore, but this timer is still an integral part of my workflow. It helps me see each task as a doable 30 min. chunk instead of a never-ending hellscape. I'm not strict with it at all – I frequently go over the timer or just hit it again if I want to keep working, but it's a frequent reminder to take a break and reassess what I'm doing. Subtly, it lets me know how long I've been at a particular task. And psychologically, I find myself more motivated when a clock is counting down closer and closer to 0.
Focus Booster has since been updated and made a lot fancier, but I still prefer their older version, which was smaller, simpler, and less obtrusive. You can download Ver. 1.2 over here.
Holy shit, guys! GUYS! If you're a huge copy & paster like me, this one's a gamechanger!
It basically stores your last 20 copy & pastes (or however as many as you want) so you can bring any of them back with a quick click or keystroke. It doesn't sound like much but not a day goes by where I don't use this! Just try it and I swear you won't be able to go back copy & pasting like some peon.